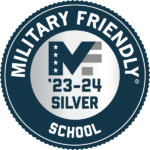 Pennsylvania Highlands Community College recognizes the sacrifice of those who have served in the United States Armed Forces.
If you are a veteran, service member, survivor, or dependent of a veteran, you may be eligible for veterans' educational benefits to help you achieve your educational goals!
---
Covered Individual
Pennsylvania Highlands Community College will permit any covered individual to attend or participate in the course of education during the period beginning on the date on which the individual provides to the educational institution a certificate of eligibility for entitlement to educational assistance under chapter 31 or 33 (a "certificate of eligibility" can also include a "Statement of Benefits" obtained from the Department of Veterans Affairs (VA) website e-Benefits, or a VAF 28-1905 form for chapter 31 authorization purposes) and ending on the earlier of the following dates:
The date on which payment from VA is made to the institution.
90 days after the date the institution certified tuition and fees following the receipt of the certificate of eligibility.
Pennsylvania Highlands Community College will not impose any penalty, including the assessment of late fees, the denial of access to classes, libraries, or other institutional facilities, or the requirement that a covered individual borrows additional funds, on any covered individual because of the individual's inability to meet his or her financial obligations to the institution due to the delayed disbursement funding from VA under chapter 31 or 33.
Pennsylvania Highlands Community College does require a covered individual complete, sign, and return the "VA Enrollment Form" to a School Certifying Official (SCO) each semester in order to authorize the SCO to submit the covered individual's certification. NOTE: A Covered Individual is any individual who is entitled to educational assistance under chapter31, Vocational Rehabilitation and Employment, or chapter 33, Post-9/11 GI Bill® benefits.
NOTE: "GI Bill®" is a registered trademark of the U.S. Department of Veterans Affairs (VA). More information about education benefits offered by VA is available at the official U.S. government website at www.benefits.va.gov/gibill.
---
Contact Information
For information about using military educational benefits at Pennsylvania Highlands, contact our Veteran Certifying Official, Mary Hattaway, Assistant Director of Student Financial Services, at 814.262.6435. You can also log on to the U.S. Department of Veteran Affairs website by clicking here for additional information about educational benefits.