The local Municipal Police Academy (MPS 0011) is a part of Pennsylvania Highlands Community College. The College's Police Academy is a certified unit of the Commonwealth of Pennsylvania Municipal Police Officers' Education and Training Commission (Act 120).
Successful completion of the program will earn cadets a certificate and permit the graduate to test for a Commonwealth Municipal Police Training (MPT) number required of all municipal police officers in Pennsylvania. An MPT number is essential for employment in almost all basic and many related law enforcement occupations. Cadets will be eligible for waiver certification for Act 235, armed security guard.
The Police Academy is a one-year program that runs evenings and weekends. Classes are typically Monday through Thursday from 6 PM to 10 PM. There will be eight weekends when training will occur.
Applications are now being accepted for the Fall 2024 cadet class. Financial Aid is available. Contact Student Financial Services at 814.262.6454 for details.
Program Hours: 919
Program Length: 11 months
Tuition: $6,500
Equipment: $1,000+
Location: Richland Campus
Contact: Email Us
---
Areas of Training
In an effort to stay current with changes and trends in the industry, the program curriculum may change during the program year and will include general training in:
Introduction to the Academy
Introduction to law enforcement in PA
Physical and emotional readiness
Laws and procedures
Defensive tactics
Motor vehicle law enforcement
Accident investigation
Motor vehicle collision investigation
Patrol procedures and operations
Principles of criminal investigation
Human relations crisis management
Families in crisis
Basic firearms course
Operation of patrol vehicles
Report writing
First aid and CPR
Handling arrested persons
Oleoresin Capsicum Aerosol Training (OCAT)
---
Physical Agility Test & Other Requirements
Prior to being enrolled in the Johnstown Regional Police Academy at Penn Highlands Community College, all cadet applicants must successfully complete a pre-screening physical agility test. The testing will consist of sit-ups, a 300-meter dash, push-ups, and a 1.5-mile run in this order with a five-minute break between testing events. Applicants are advised to dress in athletic clothing and appropriate athletic footwear. This pre-screening test will be 100% outdoors, as such while you are waiting to be tested you may wish to bring rain gear, sunscreen, sweatshirts/pants, and/or other comfortable clothing. Testing will take place rain or shine. You may also bring water or another hydration source with you. The test will last approximately two hours.
Next Physical Agility Test Dates:
Directions: From Schoolhouse Road, turn onto Highfield Avenue. Turn left onto Kunks Drive and follow until you can go no further. Turn left and cross a single-lane bridge. The track will be on your right.
Upon arrival report to the track and check-in with a photo identification (driver's license or other form of photo identification). Failure to report for this pre-screen testing will delay the processing of your cadet application.
Walk-ins are welcome. Please bring a photo ID.
In addition to completion of the physical agility test, cadet applicants will need to pass a physical, psychological, and vision examination, along with a post-traumatic stress disorder evaluation.
To register for this date or to learn more, please contact the Police Academy at 814.262.6443 or by email.
---
Police Academy Open Houses
All open houses will take place at the Richland Campus, in room A142. The event will discuss prescreening testing requirements and timing, the application process, tuition and fees, and equipment needs.
---
Police Academy To Criminal Justice
Successful completion of the Johnstown Regional Police Academy (ACT 120) will earn cadets 24 credits toward their Criminal Justice degree. By completing the Police Academy, you are well on your way to earning an associate degree. The Police Academy substitutes for the following courses:
---
2023 MPOETC CONTINUING EDUCATION COURSES
23-201 Legal Updates (Required course – 3 hours) morning of first day
23-301 Tactical Communication (Required course – 3 hours) afternoon of first day
23-401 Criminal Investigation (Elective course – 3 hours) morning of second day
23-501 Officer Wellness (Elective course – 3 hours) afternoon of second day
Attendance at all four classes meets the annual training requirement. Classes will be presented on the dates listed on the signup form. Classes with two dates begin at 8:30 A.M. Classes with four dates begin at 6:00 P.M. Courses will be presented in the order listed above.
---
Police Academy Staff
Dennis Miller
Police Academy Director
Email Dennis Miller
Mr. Dennis Miller began his career in law enforcement in 1981 as a municipal police officer while earning a degree in Criminology from Indiana University of Pennsylvania. In 1985, he accepted a position with federal law enforcement where he was assigned to protect the U.S. Supreme Court justices. After three years, he transferred and became a parole officer, at which time he went on to earn his master's degree in Criminology from Indiana University of Pennsylvania. Soon later, he joined the Johnstown Police Department as an officer.
In 1989, Mr. Miller transferred back into federal law enforcement, becoming a Correctional Treatment Specialist with the Federal Bureau of Prisons. He continued to accept positions of elevating responsibilities, culminating as a Hostage Negotiator and Disciplinary Hearing Officer. He retired in 2012. 
Mr. Miller taught college-level courses throughout his career, starting in 1990 with criminal justice classes. After his retirement from law enforcement in 2012, he accepted a full-time teaching position in the Criminal Justice Department at Pennsylvania Highlands Community College. He continues in that role today as an Associate Professor. Mr. Miller has 31 years of field experience in various forms and levels of local and federal law enforcement and 32 years of experience in teaching college-level curricula.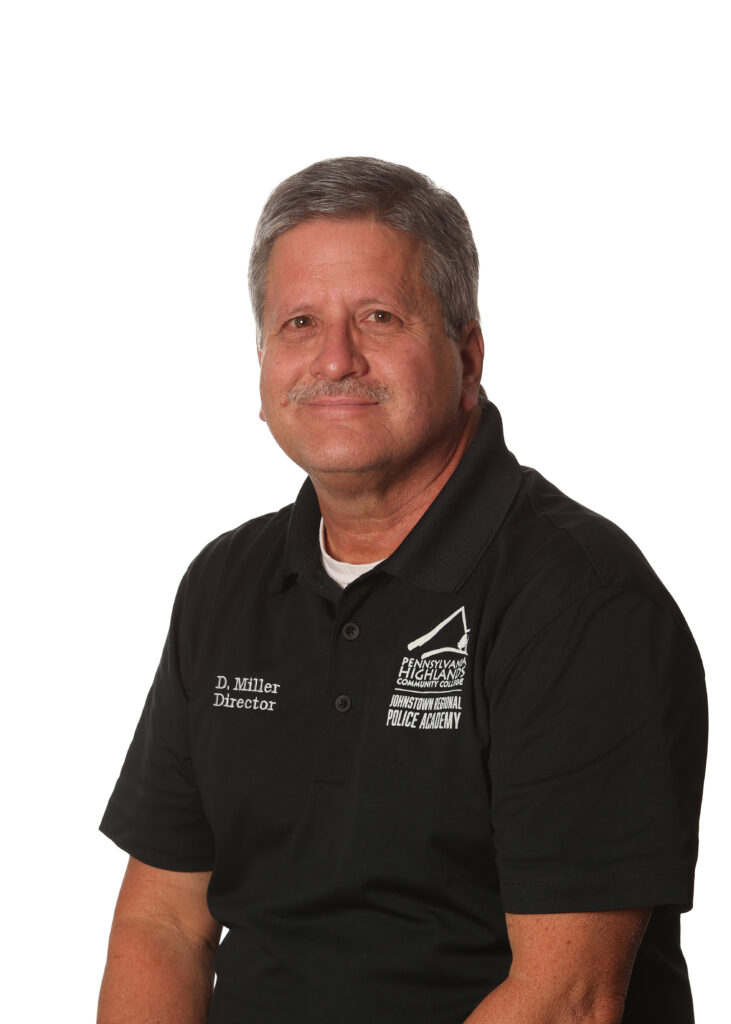 Kevin Gaudlip
Assistant Police Academy Director
Email Kevin Gaudlip
Mr. Kevin Gaudlip has over 30 years of experience in law enforcement. For those 30 years he has played a vital role at the Richland Township Police Department as a detective. Additionally, for over 15 years, he has served as an MPOETC Master instructor for the Police Academy, Chief Crisis Hostage Negotiator for the Cambria County SERT Team, and a coordinator, instructor, and executive committee member for the Laurel Highlands Region Police Crisis Intervention Team (CIT).
He has served as a part-time police officer in Somerset Borough, Upper Yoder Township, Geistown Borough, & University of Pittsburgh at Johnstown Police, and he was a paramedic and Assistant Chief at East Hills Ambulance Service.