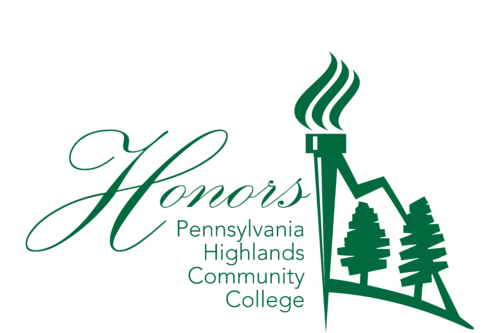 The Honors Program at Penn Highlands Community College provides an academically challenging and enriching learning experience for highly-motivated, academically-prepared, and intellectually-curious students. The program attempts to nurture the development of global citizens through the following practices:
Collaborative, active learning
Creative & critical thought
Service to others
Independent investigation
Cultural enrichment & sensitivity
Leadership development
Build an academic resume for transfer and scholarships
Take Honors courses with enriched academics: field trips, performances, lectures, outside speakers
Priority registration for Honors students
Collaborate with faculty on self-directed, independent learning projects
Opportunity to attend cultural and social activities with Honors colleagues
Opportunity to attend regional and national Honors conferences and to present Honors research
Honors designation on transcript and Honors cords and medallion at graduation (if earned)
Honors Program and degree recognition in the Commencement program

Rather than doing "more work," students in Honors courses engage in academic enrichment that provides deeper levels of understanding and application of knowledge than non-honors courses. An Honors education fosters excellence; it challenges students to take responsibility for, and provide direction to, their own learning. Honors courses and Honors contract projects undertaken with mentoring faculty provide enriched personal learning experiences.

Students who meet the following criteria are encouraged to apply to the Penn Highlands Community College Honors Program:

Current Penn Highlands' students and transfer students with a college GPA of 3.5 or greater and Accuplacer test placement into ENG 110 and MAT 110 or MAT 131 (dependent upon program).
High school graduates who complete the placement test confirming eligibility for college-level math and English and have a high school GPA of 3.5 or greater (unweighted).
Students must be enrolled in an associate degree program, either full- or part-time. Students in certificate programs are not eligible.
Students must be 18 years of age or older to be accepted into the Honors Program.
---
Honors Program Application