Sophomore Tiffaney Smith Presents At Beacon Conference On Women's Roles & Fashion
Posted February 22, 2019 at 8:50 am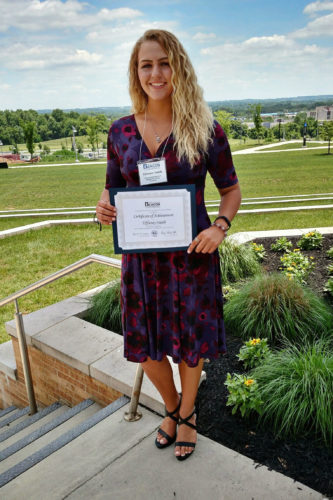 Pennsylvania Highlands Community College would like to congratulate Business Administration student Tiffaney Smith, of Vintondale, on receiving a Certificate of Achievement for her paper at the Beacon Conference. The Beacon Conference accepted Tiffaney's paper, "The Evolution of Women's Roles and Fashion," and she was able to present it during the 2018 Beacon Conference.
The Beacon Conference was established by mostly Honors faculty to recognize, celebrate, and showcase the academic achievements of outstanding students at community colleges in the mid-Atlantic region. It encompasses a wide range of disciplines.
Her paper was prepared under the guidance of Penn Highlands' professor Dr. Russell Newman. This year only 44 paper submissions were accepted, with three papers being chosen for presentation per category.
Tiffaney's paper handles the topic of women's roles and fashion. It takes the reader on a journey through time starting with the Victorian age, all the way up through present day. It walks the reader through different fashion trends and how they correlate with the attitudes and independence of the women in each time period.
Sophomore Tiffaney Smith plans to pursue her goal of owning her own business by transferring and earning her bachelor's degree in marketing from Indiana University of Pennsylvania after she graduates from Penn Highlands Community College.
"I am grateful for the opportunity I had to participate in the Beacon Conference," stated Tiffaney Smith. "The experience strengthened my ability to speak publicly and answer intellectual questions. That is something that I will be able to carry with me as I build to one day owning my own business."
About The Beacon Conference
The Beacon Conference was born in 1993 when Rockland Community College (NY), with a grant from the American Association of Community Colleges and the Kellogg Foundation, and in association with Bergen Community College (NJ), Brookdale Community College (NJ), Catonsville Community College (MD), Dutchess Community College (NY), Harford Community College (MD), Kingsborough Community College (NY), Middlesex Community/Technical College (CT), Nassau Community College (NY) and Westchester Community College (NY), organized two conferences for student scholars at two-year colleges in the mid-Atlantic region. Since then, the conference has been sponsored by a coalition of participating community colleges, which take turns hosting this event each year on the first Friday of June.