Sequestered Realizations
Posted April 26, 2020 at 3:13 pm
The original column appeared in the Tribune-Democrat , written by Dr. Steve Nunez. Click here to see original sourced column. 
I'm very new to Cambria County. I literally arrived here on Dec. 31, with the moving truck pulling away at midnight on New Year's Day.
As I have physically isolated myself over these past several weeks, I've had time to sit quietly and reflect more than I think I ever have. These quiet contemplations led to this Top 10 list of "sequestered realizations."
1. West-central Pennsylvania is one beautiful place. Having grown up in southwest Virginia, I know what beautiful landscapes look like. Here in Pennsylvania, parks and recreational areas are open for hiking and cycling as long as social distancing is practiced; I have taken advantage of it as much as I could. I must have biked and hiked 100 miles of trails over these past few weeks in the sun, rain, and even snow. We have a real treasure here.
2. And speaking of sun, rain, and snow – this area must have the most unpredictable weather in the nation. If I had my druthers, I'd take a few more days of sunshine.
3. Cooking at home more frequently has been inexpensive, fun, and satisfying. With that said, I can't wait to head back to my favorite restaurants and break bread and drink beer with my friends and colleagues.
4. TV programming has gotten much better over the past five or 10 years. While there is only so much TV one person can watch, I always seem to find another show to keep my attention.
5. Essential workers rock. I can't tell you how much I appreciate our essential workers, especially our health care workers who are putting themselves clearly in harm's way. Kudos to your dedication.
6. I really appreciate my colleagues at Penn Highlands. As a collective, they have been supportive, positive, understanding, and hard-working. I am proud to be their colleague.
7. Moving into a new home during a pandemic is problematic.
8. The students of Penn Highlands are rock stars. I have called several of them over the past few weeks and I'm so proud of them for the way they have adapted to taking all of their classes completely online. Many of them are also essential workers at our local restaurants and grocery stores. Thank you for what you do and let's finish the semester strong.
9. Most of my family and friends live outside the area. I cannot wait until I see them in person.
10. Going back to "normal" is not going to happen overnight. We will be practicing some type of social distancing for many more months.
But know this, despite any challenges, Pennsylvania Highlands Community College is open for business and will continue to provide high-quality education to our community.
Until next time.
---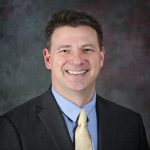 Written By Dr. Steve Nunez, College's Fifth President. This monthly series appears in The Tribune-Democrat, and will allow Dr. Nunez to provide his perspective on the value of education and of a community college.