The Mother Of All Support Systems
Posted June 1, 2021 at 8:47 am
The original column appeared in the Tribune-Democrat , written by Dr. Steve Nunez. Click here to see original sourced column.
With both commencement ceremonies completed at Pennsylvania Highlands Community College for this year, I cannot help but reflect on the graduating class of 2021.
The graduates had so many obstacles to overcome, and yet, despite them, graduated anyway. I am proud of their accomplishments, and it was great to get to meet many of them in person.
During my 25-year career in higher education, I have learned that very few students graduate without the support of some mentor or loved one.
The transition to and through higher education is a difficult one, and most of us on that journey need a cheerleader to encourage us to persevere during the hardest of times. I was lucky, as I had two parents who encouraged and supported my educational journey – and the journeys of my sister and brother.
As I mention often, I attended a local community college, where a small teacher-to-student ratio and excellent student support systems allowed me to thrive academically and grow into my own skin. After graduating from the community college, I transferred to Virginia Tech, a university of more than 25,000 students. However, I quickly felt diminished to a student identification number, and in some cases, was relegated to classes with hundreds of other students.
I received a fabulous education from Virginia Tech, and I have many fond memories there, but I had a very difficult transition from my community college, where I had personalized attention, to this large university, and consequently, I struggled academically my first semester.
Parenting is a gratifying but difficult job – and is an imperfect science at best. As most parents will attest, raising a family is hard work, which I confirmed when I helped raise two boys of my own. I have enormous respect for what my mother did, seemingly without much complaint, as she worked as a full-time elementary school teacher and helped raise a family. She worked all day, shopped for groceries, cleaned the house, and cooked for her family, and yet, I never felt alone. Somehow mom was always there when I needed her. Sometimes it was as simple as giving me a hug or a peanut butter sandwich. Other times, well, I may have required a literal kick in the pants. But simply being there for me was, and continues to be, enormous.
So, I was a young man at Virginia Tech, seemingly in over his head, who had lost confidence in his abilities. I was mentally and emotionally exhausted and ready to give up. It was clear to me that I was out of my element, and so, I called my mother to tell her I wasn't cut out for Virginia Tech, that this wasn't the place for me, and I was coming home. It was a declaration, not a question.
I sometimes wonder if my mother even remembers this phone call. But I do, and it was short and to the point – paraphrasing, she replied to my declaration, "You aren't giving up. You aren't coming home. Figure it out."
We then went on to discuss some strategies to help me move forward and be successful. My mother gave me some "tough love" that day and it was exactly what I needed. The easy thing to do was to quit – the more difficult path was to figure it out.
Even today, I consider my mom a great friend and confidant, and I recognize that she will always love and care for me as much today as a 50-year-old adult as her awkward 5-year-old son. But one of my mom's greatest gifts was to raise us, her children, with the confidence to go pursue our dreams and conquer the world.
Congratulations to all the local graduates!
---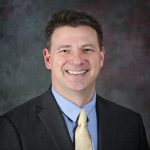 Written By Dr. Steve Nunez, College's Fifth President. This monthly series appears in The Tribune-Democrat, and will allow Dr. Nunez to provide his perspective on the value of education and of a community college.