Sophomore Guard Matthew Forbes Earns National Player Of The Week Honors
Posted January 16, 2020 at 11:47 am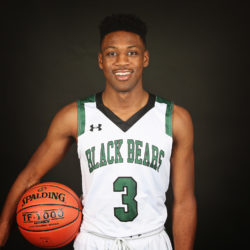 Pennsylvania Highlands Community College men's basketball player Matthew Forbes (Pittsburgh, PA) has been named the NJCAA Division III National Player of the Week (January 6-12, 2020).
During his play last week, he averaged 29.5 points, 11.5 rebounds, 4.5 steals, and 4 assists. Forbes shot 71% from three-point range and 62.8% from the field.
"Matt has had a great start to 2020," stated Landon Loya, Head Coach of the Black Bears. "His versatility allows us to play him at multiple positions. He's tough and resilient, and his athletic abilities allow him to finish at the rim while also being a great shooter."
Overall, Forbes is averaging 16.8 points and 6.6 rebounds per game in 13 games played this season.
Forbes is a graduate of Penn Hills High School.
Penn Highlands competes in Region XX and is a part of the Western Pennsylvania Collegiate Conference (WPCC). The WPCC was founded in 1972 and currently consists of 10 member institutions.