I Love My Career
Posted August 1, 2022 at 3:51 pm
The original column appeared in the Tribune-Democrat, written by Dr. Steve Nunez. Click here to see original sourced column.
I have been in higher education for more than 27 years, and while I don't get to work with students every day like I did when I was an instructor, I still treasure those few opportunities that I get to meet with students.
For example, just before the start of each semester, the college conducts an orientation for new students.
I use my time with these new students to tell my own story of growing up in rural America and being an average high school student who had no idea what I wanted to do with my life.
I eventually found my local community college, where the faculty and staff helped me grow into a solid student and find direction.
At the new student orientation, I ask these students if they know what they want to major in or do as a career – and most say they do. I think most of them probably don't feel like they can answer in the negative. (They may be waiting for a sarcastic comment from me like, "You are coming to college, and you don't even know your major yet?")
But instead, I smile, and then I tell them that most of them, before they graduate from college, are likely to change their major, and hence their career.
For me, I started as a history major, but ended up as a biology major. For many students, they change their major two, three, four, or more times.
In fact, it is much more common to switch a college major than keep the one you started with.
But I remind these new students that it is OK to be uncertain at this stage of their college career. Choosing a major, much less a career, should be difficult as it is one of the most important decisions in their lives.
Community colleges excel in helping students find their direction (and do it at a reasonable cost). Our staff and faculty help students identify their academic crossroads where passion and ability intersect. But the process takes time – students need to be exposed to diverse subjects and diverse teachers, where they can identify their passions and grow their skill sets.
For me, while I enjoyed history, I found a love for the biological sciences, a subject that seemed to fit my inquisitive nature and my critical thinking abilities. As importantly, I found biology interesting.
I really loved learning about biology – I was hooked.
I probably would have never identified my interest in biology if I wasn't required to take a biology class as a college freshman that was luckily taught by a passionate, caring, and knowledgeable instructor.
That teacher changed my life and I'm glad I was given that opportunity to learn from him. He helped me identify a passion that fit my personal skill sets.
I can see the upcoming fall semester on the horizon – classes start at Penn Highlands on Aug. 22. I'm excited to see hundreds of new students on our campuses this fall semester and I look forward to talking to them about their futures and how Penn Highlands can help them find their way.
Honestly, my time with them is important to me as it reenergizes and refocuses me for the upcoming year – and reminds me that community colleges are my new passion.
I have a great job. I get to help change and improve people's lives through education.
I get to give folks second, and sometimes third chances to reach their dreams.
I get to shake the hands of every single graduate at commencement and see the happiness and sense of accomplishment on each of their faces. And then I get to hear about their future successes (at a university and/or in their careers) when they reach back out to me or the college's foundation and share their stories.
I'm lucky. I love what I do.
See you at Penn Highlands.
---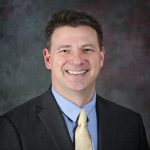 Written By Dr. Steve Nunez, College's Fifth President. This monthly series appears in The Tribune-Democrat, and will allow Dr. Nunez to provide his perspective on the value of education and of a community college.