Hiawatha Clemons, III to speak about Student Activism
Posted January 7, 2015 at 12:19 pm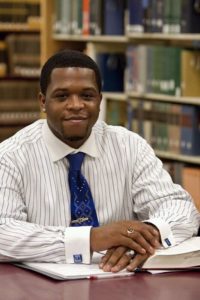 Pennsylvania Highlands Community College and the College's Diversity Committee will be hosting two free presentations by Hiawatha Clemons, III on Tuesday, January 20th. The presentations will take place in the College's Richland Campus Auditorium. The first presentation will begin at 12:30pm. The second presentation will begin at 6pm.
Hiawatha Clemons, III will speak about student activism, which includes service and involvement. Each presentation will be followed by a question and answer session.
For additional information regarding the presentations, please contact Diversity Committee Chair Kathy Edmiston at 814.262.3810 or kedmis@pennhighlands.edu.
ABOUT HIAWATHA CLEMONS, III:
Hiawatha Clemons, III is a native of Raleigh, North Carolina but moved with his parents, to tidewater Virginia at a young age. Despite a strict and loving upbringing, Hiawatha was perceived as a problem child by the public school system in Virginia. By the end of his sixth grade year, he was labeled "emotionally disturbed." Administrators believed special education services were necessary for the young man, and he was transitioned into special education classes. The transition was not without difficulties and brought Hiawatha ridicule from his peers. But Hiawatha refused to allow the institutional labels to define him.
Upon graduating from high school, Hiawatha enlisted in the United States Marine Corps and served his country proudly for four years, including a tour of duty in Iraq. Following his military service he decided to go back to school. In 2007, under the GI Bill, Mr. Clemons initially started taking classes part-time at Tidewater Community College (TCC). With more and more classes under his belt, Hiawatha developed a confidence that he never had during his early years as an "emotionally disturbed" special education student. Mr. Clemons graduated from TCC with two associate degrees and was immediately accepted into Old Dominion University (ODU) in Norfolk, Virginia.
Nearing the end of his tenure at TCC, he was accepted into the Mission Continues Fellowship Program, a nonprofit organization which helps veterans readjust back into civilian life. It was this program that provided a turning point in his life. Through the fellowship, Hiawatha was able to go back to the school where he had been labeled "emotionally disturbed," years earlier and reached out to students who were likewise labeled and placed in special education; to encourage them and not allow labels to define them.
While still a student at Old Dominion University, Hiawatha was asked to share his inspirational story with John Schlimm, II. Schlimm, an award-winning author and Harvard educated activist was compiling material for his next book. The book, Stand Up! 75 Student Activists Who Rock the World and How You Can Too!, was released in late 2013 and prominently featured Hiawatha's story. Stand Up! debuted at #1 on the Amazon Bestseller list in the Children's Department.
At Old Dominion University, Hiawatha became the "face" of the student body, both for his academic excellence and service to the community. In his senior year at ODU, he was rewarded for his academic excellence and was inducted into the Phi Kappa Phi Honor Society. As a Human Services major, Hiawatha interned for NICRO, a nonprofit organization of social workers in Cape Town, South Africa. Earlier this year, he graduated magna cum laude from ODU and was accepted in the graduate program in counseling at Regent University.