Emily Krisko Named Coca-Cola Academic Team Gold Scholar
Posted March 10, 2020 at 8:31 am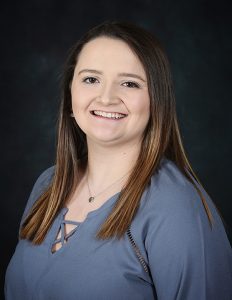 Pennsylvania Highlands Community College congratulates Emily Krisko, of Portage, for being named a 2020 Coca-Cola Academic Team Gold Scholar. She will receive a $1,500 scholarship.
The Coca-Cola Scholars Foundation sponsors the Coca-Cola Academic Team program by recognizing 50 Gold, 50 Silver, and 50 Bronze Scholars with nearly $200,000 in scholarships annually. Each scholar also receives a commemorative medallion.
Emily Krisko graduated Cum Laude in December 2019 with an Associate of Arts in Liberal Arts & Sciences. She is continuing her education at Indiana University of Pennsylvania, where she plans to earn a bachelor's degree in Speech Language Pathology and Audiology. During her time at Penn Highlands, Emily was very active. She was involved with Phi Theta Kappa, the National Society of Leadership and Success, and the Ebensburg Activities Club. Emily also served as an orientation leader.
"The Coca-Cola Scholars Foundation has a long history of providing financial assistance to outstanding students at community colleges," said Jane Hale Hopkins, President of the Coca-Cola Scholars Foundation. "We are proud to partner with Phi Theta Kappa and make it possible for deserving students to achieve their educational goals."
Students are nominated for the academic team by their college administrators. Selection is based on academic achievement, leadership, and engagement in college and community service.
"Emily Krisko has a bright future ahead of her; she was a standout student and leader," said Dr. Steve Nunez, President of Pennsylvania Highlands Community College. "She is a role model deserving of being named a Coca-Cola Academic Team Gold Scholar. We are proud to have Emily represent the college community and our region."
Coca-Cola Academic Team members will be recognized in both local and statewide ceremonies and will also be recognized internationally during Phi Theta Kappa's annual convention, PTK Catalyst, April 2-4, at the Gaylord Texan Resort and Convention Center in Grapevine, Texas, near Dallas.
"We thank the Coca-Cola Scholars Foundation for recognizing these student leaders and for investing in their futures," said Dr. Lynn Tincher-Ladner, President and CEO of Phi Theta Kappa. "Scholarships like these are integral to the success of these students in reaching their educational and career goals."
About Phi Theta Kappa
Phi Theta Kappa is the premier honor society recognizing the academic achievement of students at associate degree-granting colleges and helping them to grow as scholars and leaders. The Society is made up of more than 3.5 million members and nearly 1,300 chapters in 11 nations, with approximately 240,000 active members in the nation's colleges. Learn more at www.ptk.org.