Embracing The Motto Of Service Above Self
Posted August 2, 2021 at 9:27 am
The original column appeared in the Tribune-Democrat, written by Dr. Steve Nunez. Click here to see original sourced column.
About seven years ago, Sauk Valley Community College, where I worked, hired a new president. During one of my first meetings with him, he asked me which community organizations I belonged to; I embarrassingly said none. He then went on to inform me that as I was a senior community college leader, he expected me to join and participate in several community organizations.
It seems so logical to me now – I mean, the word "community" is embedded right in the name of community college. I, therefore, wholeheartedly agreed and quickly joined multiple organizations across several communities.
That same boss suggested that I join a local chapter of Rotary International. Again, embarrassingly, I had to ask what the mission of Rotary was. He patiently explained that it was an organization dedicated to community service at the local, regional, national, and even international levels.
The motto being "Service Above Self."
I was intrigued and soon joined the Dixon, Illinois, chapter of Rotary – where I was a member for five years.
During those five years, we did great work for the Dixon community and raised more than $50,000 for college scholarships and participated in multiple community renewal projects.
What impressed me most was that the Rotary Club was full of civic-minded, kind, and generous folks. As we say in the south, "they are good people," and I thoroughly enjoyed getting to know them. Many are still good friends today.
After being hired as President at Pennsylvania Highlands Community College, I had a conversation with my own leadership team about joining community organizations, just as my former boss did with me those seven years ago.
I have talented leaders on my team, and I stressed to them the importance of not only participating in but also providing leadership to community organizations.
I was pleased. They were already engaged with and provided leadership to many community organizations. I'm proud to say that the College remains "plugged in" to our communities as we serve as members of and provide leadership to many civic, service, and economic development organizations.
Last year, I decided to join the Ebensburg Rotary Club, where I quickly realized that members are good people who love their community.
A short year later, I am now the club's president. We are a small but mighty club that is invested in helping the Ebensburg community. Our list of annual projects is quite impressive and only seems to keep growing.
We are most intently focused on designing and funding a dog park near Lake Rowena – and years of effort and persistence are finally paying off as we may be nearing the construction phase.
I'll leave you with a call to action – investigate your local community organizations (of any sort) and join one.
Even if you can only infrequently participate, your expertise, your time, and your service is important to that club and to our community's wellbeing. You won't regret joining and you may find yourself falling in love with its mission – much as I did with the Rotary.
If you'd like to help the Ebensburg Rotary Club in its efforts to complete a dog park, you can attend our Dawg Pawty fundraiser from 10 a.m. to 2 p.m. on August 14th at Lake Rowena.
And, we'll see you at Penn Highlands.
---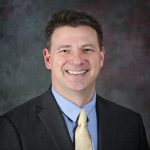 Written By Dr. Steve Nunez, College's Fifth President. This monthly series appears in The Tribune-Democrat, and will allow Dr. Nunez to provide his perspective on the value of education and of a community college.