Education Key Driver For Social Change
Posted June 29, 2020 at 10:04 am
The original column appeared in the Tribune-Democrat , written by Dr. Steve Nunez. Click here to see original sourced column. 
I write this column on June 19, or "Juneteenth," a day that commemorates the end of slavery in our country.
I've spent the past several weeks reading, listening, and watching as others spoke of the social unrest that is occurring throughout the United States.
Being a white person and being surrounded by mostly white people for much of my life, I have been generally insulated from the reality of racism.
Racism is just not something I understand. I've always lived by the motto to treat all people with kindness and respect – the color of one's skin or ethnic differences are meaningless when it comes to how I treat someone. Instead, I judge people by their actions, by how they treat others.
This motto, I believe, has served me well throughout my life.
And because my own personal experiences with discrimination are rare and frail, I can only try to understand the impact of discrimination through the experiences of others – by what I read, hear, or see.
When I was working on my doctorate degree from Ferris State University, I had the privilege of learning from amazing instructors and, as importantly, 30 other students who were community college professionals like myself.
I particularly remember my first course, called Critical Issues in Community Colleges, as it was the most impactful for me as a leader and professional.
At the end of one of our classes, our instructor insisted that the entire class visit the Jim Crow Museum of Racist Memorabilia located on Ferris State's campus. Considering that nearly one-third of the cohort of students were Black, I found the tour and the follow-up discussion incredibly uncomfortable.
As we walked through the museum, we encountered example after example of racist signs, films, cartoons, books, art, and pictures. After the tour, most of the white students were quiet as we listened to our fellow Black students vividly recall how they and their family members had consistently experienced racism in modern-day America.
Honestly, I was distraught as I listened to and then absorbed their stories.
That single lesson was one of the most powerful I've ever experienced as a student, and it taught me that racism is still very real in America.
I am a proud leader of a higher-education institution, and so it should come as no surprise that I think that education is the best way to positively impact people's lives and to change society.
When I ponder what action Penn Highlands can take on these issues, I'm reminded of both the college's mission to provide affordable, quality education to our community and of the core values adopted by our employees.
Two core values of consequence to this discussion include:
Informing and involving members of the college community in discussion and problem-solving at all levels in an atmosphere marked by civility and cordiality conducted with respect for personal and professional differences.
Developing innovative and creative responses to the region's dynamic economic, workforce, and social needs based on interactions with all segments of the community.
Honestly, when it comes to these complex issues of racism and discrimination, I have more questions than answers.
While I certainly have my own thoughts and ideas on how we can advance this conversation, I have always believed the best ideas come from collaboration.
I'm lucky that, at Penn Highlands, I am surrounded by passionate, caring, and intelligent folks. And so, using the mission and core values of the college as our guideposts, I pledge that I will use their collective intellects to discuss what the college's next steps should be.
I recognize that this is only a small step on a long journey, but I'm embracing the journey and I look forward to the discussions.
See you at Penn Highlands.
---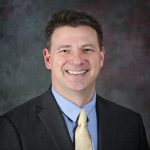 Written By Dr. Steve Nunez, College's Fifth President. This monthly series appears in The Tribune-Democrat, and will allow Dr. Nunez to provide his perspective on the value of education and of a community college.