Educating A Lion's Share Of Students
Posted May 2, 2022 at 9:32 am
The original column appeared in the Tribune-Democrat, written by Dr. Steve Nunez. Click here to see original sourced column.
If you have read my columns before, you know I am a product of a community college and have worked for community colleges my entire professional career.
I even earned a doctorate in community college leadership.
I have always been drawn to and appreciate the community college mission, which is to provide affordable, accessible, and quality educational opportunities to the communities that we serve.
When I am asked to speak to local, state or federal legislators, economic development organizations, or civic-minded clubs – I get really excited.
Community colleges are my passion, and I cannot wait to share my personal experiences and to discuss why community colleges are the best higher education "invention" ever.
Honestly, I have a tough time being succinct when I am given a pedestal to talk about community colleges.
I recently had the pleasure of enjoying the company of members of the Johnstown West End Lions Club. We spent the first hour together "breaking bread" and getting to know each other before I was asked to give some comments. I will freely admit that Lions Clubs and Rotary Clubs are friendly rivals, but ultimately both clubs strongly believe in community service and giving back to those in need.
If you visit the Lions Club website, the word "kindness" is found throughout – that is the type of civic organization that I admire and respect. And I would become a member, but I am a Rotarian so – you know, the friendly rival thing.
I have given many presentations in my career, but a trick of the trade is to find a way to actively engage your audience to increase participation and focus. A new tool for me is to engage an audience using trivia questions – in this case, questions about community colleges. And so off I went peppering the Lions Club members with community college trivia.
• How many community colleges are there in Pennsylvania? 15.
• How many community colleges are found in the United States? 942.
• How many students are served annually by community colleges? Around five million.
And you know you have their interest when they begin asking questions in return.
• Will your college credits transfer to a four-year university? Yes.
• What is Penn Highlands' service area? Mostly Cambria, Somerset, Huntingdon and Blair counties, but we serve other counties in central Pennsylvania, too.
• What is dual enrollment? High school students dually enrolled in a high school class (for high school credit) and simultaneously a college class (for college credit). Some Penn Highlands students earn their associate degrees before they earn their high school diplomas.
And so it went, until I realized that I had held the Lions Club hostage for about an hour. My community college passion put me into a fevered state, and I had lost track of time.
However, the Lions Club was gracious. We took a couple of pictures, they handed me a nice certificate of appreciation, and sent me on my way with handshakes and smiles.
Ultimately, I left a happy man who was well fed, had made a few new friends, and felt reenergized by speaking about my passion to a great group of people. It was a terrific way to end the evening.
See you at Penn Highlands.
---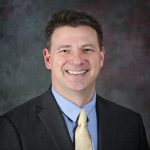 Written By Dr. Steve Nunez, College's Fifth President. This monthly series appears in The Tribune-Democrat, and will allow Dr. Nunez to provide his perspective on the value of education and of a community college.