New Year's Resolutions For Personal Growth, Community Impact
Posted February 1, 2021 at 10:17 am
The original column appeared in the Tribune-Democrat , written by Dr. Steve Nunez. Click here to see original sourced column.
Yes, it's that time of year again – the time to create a list that inspires us to be better selves.
I've never actually created a New Year's resolution list – so the one below will be my very first. So, what inspired me to create a list this year? Would it be that I was desperate for a topic for my January article?
Um, of course not.
In all seriousness, 2020 was a tough year for many. High schools cancelled proms and traditional graduation ceremonies – moments that high school seniors will never have the opportunity to experience again. K-12 and college students had to adapt to virtual learning – a method that is not well suited for every student or every teacher.
We had to learn to find new ways to entertain ourselves as movie theaters and many shops, bars, and restaurants had closed – at least temporarily – or operated at reduced capacity. Businesses had to adapt to a new way of, well, doing business. Many found it impossible and had to close shop.
Many lost their jobs – their livelihoods – and found themselves for the first time using a local food bank in order to feed their families. And some, tragically, saw their loved ones suffer and/or lose their lives due to COVID-19.
So, the new year brings hope and promise and hence my inspiration to write my own resolutions that focus on personal and professional improvement. Here is my list:
Laugh more, worry less.
Remain grateful for what I do have and not what I don't have.
Talk less, listen more. Actively listening and engaging with family, friends, and colleagues can bring great joy and wisdom.
Tell and show my loved ones more often that I love and care for them. One thing my late father taught me is to never miss an opportunity for a hug. I think we've all missed having more of those opportunities in 2020.
Be generous with my time and money. Giving back is key to a meaningful life.
Join Big Brothers/Big Sisters. Once we return back to "normal", I hope to be a positive role model and mentor for a young person who needs one.
Continue to enjoy and explore the amazing, local natural resources that benefit my physical and mental wellbeing. Our outdoor recreational areas saw record numbers of visitors this year; let's hope that trend continues.
Improve my leadership skills. I've been in leadership positions for more than a decade and in higher education for 25 years, but there is always something to learn and something to improve.
Get to know my community better. COVID has impeded my ability to explore and get to know west-central Pennsylvania. Unfortunately, in-person meetings and visits to restaurants and bars and local shops were mostly curtailed in 2020. I look forward to spending time exploring local businesses with my friends, colleagues, and partners. Supporting local business is key to our local prosperity.
Seek fruitful, innovative, and mutually beneficial professional partnerships. Penn Highlands is dedicated to working with and improving the local community. Local partnerships can be a win-win-win for Penn Highlands, a local business/organization, and our community. Interested? Have an idea? Let me know.
What are your resolutions for a better you?
See you at Penn Highlands.
---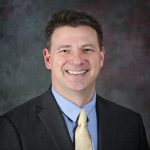 Written By Dr. Steve Nunez, College's Fifth President. This monthly series appears in The Tribune-Democrat, and will allow Dr. Nunez to provide his perspective on the value of education and of a community college.