Education Pays in Many Ways
Posted August 31, 2020 at 9:18 am
The original column appeared in the Tribune-Democrat , written by Dr. Steve Nunez. Click here to see original sourced column. 
Over the past several months, most of our conversations have been centered around COVID-19 – for good reason.
But with post-secondary education being my personal and professional passion, I regret not having more time to talk about the power of education.
So, this month's article is focused on the value of education.
I have said many times in my career that I believe that education is one of the best ways to positively impact a person's life. Education helps train the mind, exposes you to diversity in thought and culture, develops and improves communication, critical thinking, and problem-solving skills.
These new skills and experiences allow you to thrive in your current job, adapt to any changing work conditions, and position you for new employment opportunities.
Don't think you'll change jobs? On average, people will change jobs more than 12 times in their lifetimes. Education makes you marketable and resilient to changing job markets.
My own career path has been filled with lots of unexpected opportunities. Having been trained as a biologist at Virginia Tech, I started my career as a biology instructor at a small community college at the age of 26.
I taught for 15 years before having an opportunity to move into administration and found that I liked the challenge of the work and leading people.
But never in my wildest dreams did I ever expect to be a college president.
Do I use my degrees in biology as president of Penn Highlands? You bet I do. My degrees taught me more than facts and figures; they taught me how to think critically and rationalize, and to comprehend difficult subjects. These are traits that any person can use as he or she grows into a career – and these are attractive skills for employers.
On a purely economic level, the more education a person attains, the more earning potential he or she will have.
The U.S. Bureau of Labor Statistics annually publishes data on earnings and education.
This might surprise you, but someone who has earned a doctorate will earn, on average, $1,100 more per week than someone with a high school diploma.
However, one does not have to earn a doctorate degree to increase his or her earning potential. Earners of short, focused certificates and two-year degrees make 19% more money than those with a high school diploma alone.
On top of that, the more educated you are, the less likely you'll ever be unemployed.
In 2019, someone with a two-year college degree was 50% less likely to be unemployed than a high school diploma holder.
A study by Georgetown University indicates that about two-thirds of new jobs will require some form of additional postsecondary training – which could include training fields one does not normally associate with "college."
Welding, nursing, logistics, maintenance, culinary arts, and truck driving are some good examples.
Jobs exist for trained workers.
And dare I say that education can provide opportunities for a more rewarding profession and life? Again, data suggest that people who pursue more education are generally more satisfied with their careers. I'm lucky because my education has allowed me to do a job that I think I'm good at and have a passion for – educational leadership.
Ultimately, I believe the investment in education is worth it. Education equals more salary, less unemployment, more job resilience during turbulent economies, and higher job satisfaction.
We are lucky here as this region is blessed with many quality, postsecondary institutions that can provide you with that postsecondary education – Penn Highlands included.
See you at Penn Highlands.
---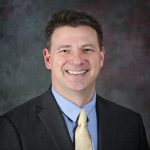 Written By Dr. Steve Nunez, College's Fifth President. This monthly series appears in The Tribune-Democrat, and will allow Dr. Nunez to provide his perspective on the value of education and of a community college.